POST & PERSON SPECIFICATION
Teacher of: Mathematics
School: Senior School
Hours: Full-time
Contract: Fixed Term, from 1st August 2020
Classification: Expatriate Teacher
Responsible to: Head of Mathematics
Responsible for: All students as allocated, both academically and pastorally
TEACH WORLDWISE
Dulwich College International is One Family of Schools focused on ensuring every student achieves his or her very best in school and life beyond, which is why all our students Graduate Worldwise, ensuring they are prepared for a future that is uncertain. To guarantee this experience for all our students, we look to recruit and enhance the very best practitioners in education so that, with us, they continue to develop as Worldwise Teachers. Our teaching and learning is grounded in the Dulwich Learning principles.
A Worldwise Teacher believes in:
• Responsive teaching that creates personalised learning and student mastery.
• The strength of diversity and the power of empathy.
• Positive and constructive communication to foster purposeful relationships with all stakeholders.
• Nurturing professional collaboration to develop both individual practice and learning across theschool community.
• Embracing the opportunities provided by workingin an international context and being openminded to different people's perspectives.
• Schools being dynamic environments that requirecognitive flexibility.
• Modelling lifelong learning through regularengagement with professional learning activities that inform and develop best practice.
• Seeking honest, open, professional dialogue tosupport reflective practice.
• Embracing and promoting the ethos, policies andpractices in the school.
• Modelling a positive commitment to the wider lifeof the school by fully engaging in its service learning and ECA/CCA programmes.
A Worldwise Teacher has the skills to:
• Appreciate the international context of ourstudents and demonstrate respect for diverse languages and intercultural competencies.
• Ensure teaching is grounded in positive studentrelationships and promotes active learning.
• Enthusiastically empower agency so students havevoice, choice and autonomy in the learning process.
• Inspire learning by providing an engaging learning environment aligned to students' needs and
interests.
• Remain flexible and responsive to the personalised needs of each student.
• Accelerate student progress with focussed, personalised and effective feedback.
• Ensure teaching draws on a variety of resources and technology to meet student needs.
• Promote school-wide wellbeing, safeguarding, health and safety.
• Model the positive values and behaviours of the Dulwich College International community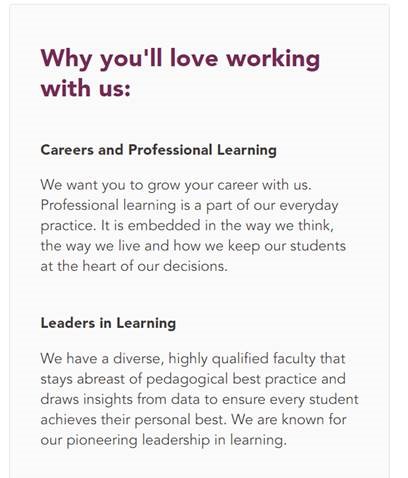 OUR PILLARS, OUR VALUES
WORLDWISE
• We build bridges to the world to make a positive difference
• We care for one another, our communities and our planet
• We are connected
• The future is always one step ahead, yet we are already equipped with the skills, courage, and compassion to navigate it with confidence
STUDENTS COME FIRST
• I put students at the heartof my decisions
• I listen to student voiceand it is reflected in my practice
• I challenge myself to constantly do better
ONE FAMILY OF SCHOOLS
• I put the team's success ahead of my own
• I partner across our Group to create new ideas
• I build trusting, respectful relationships
PIONEERING SPIRIT
• I find creative waysforward
• I seek out diversity ofthought to inform richinsight
• I turn ideas intoactionable solutions
DULWICH COLLEGE SHANGHAI PUDONG'S
STRATEGIC INTENTIONS
STUDENTS COME FIRST
• Students' development is prioritised through challenging programmes within our safe and respectful environment, which nurtures their overall wellbeing, enabling them to achieve their academic potential.
ONE FAMILY OF SCHOOLS
• Students, staff, and parents work collaboratively in our diverse and international community, in order to have a global perspective and be positive, compassionate contributors to society.
PIONEERING SPIRIT
• Students have open andinquiring minds, and are encouraged to be creative, innovative, and reflective. As a result, students develop the knowledge, the courage, and the resilience to contribute effectively and confidently to an everchanging world.
POST-HOLDER QUALIFICATIONS & EXPERIENCE
• Have a degree in Mathematics or equivalent
• Have a PGCE or equivalent in a related subject
• Have at least 2 years' experience teaching Mathematics to learners in a secondary school (Years 7-13), including IBDP as essential experience
• Teach Mathematics to students from Year 7 to Year 13, according to timetable
• Fulfil all pastoral, welfare and supervisory duties effectively and willingly
• Have a genuine passion for education and a deep understanding of curriculum developments in their subject area, alongside a good grasp of international best practices
• Role model a mindset of continuous development and improvement, to meet and exceed expectations
• Be commited to quality, attention to detail and high standards
To learn more about us please visit our website https://www.dulwich.org/careers/find-your-career
SAFEGUARDING STATEMENT
Dulwich College International is committed to safeguarding and promoting the welfare of all the students in our care and expects all applicants to share this commitment. We follow safe recruitment practices, which are aligned to the recommendations of the International Task Force on Child Protection. We hold ourselves to a high standard of effective recruiting practices with specific attention to child protection. All appointments are subject to an interview, identity checks, criminal record checks, successful references, as well as due visa and work permit process as required by Chinese law.