As a glamorous city that has evolved into a global hub for commerce, culture, and cosmopolitan living, Dubai is a very tempting destination for expats from all over the world. Dubai is well known as a vibrant global hub that boasts a stunning skyline, luxury lifestyle, and a melting pot of diverse cultures.
In this article, we drill down into the numbers behind living and working in Dubai as an expat, exploring the numbers of people who live in Dubai, the work they do, and why they choose to call the place home.
Key statistics
As of 2023, the population of Dubai stands at 3,630,786, with a population density of 762.6 individuals per square kilometre.

Estimates put the overall expatriate population of Dubai at around 75%, which is roughly 2.72 million people.

The population of the UAE is 9,365,000, meaning people living in Dubai make up 38.7% of the UAE's total population.

India has the highest share of expats in the UAE with 27.5%, followed by Pakistan at 12.7%.

It's estimated that more than 240,000 British expats have made Dubai their home.

Overall, consumer prices are 20.6% lower in Dubai than in London.

To maintain the same standard of living, you would need to earn £5,965.50 in London compared to £4,654.93 in Dubai.

Local purchasing power is 24.3% higher per the average wage in Dubai when compared to London.

Eating is more affordable, with restaurant prices 27.6% lower and grocery prices 20.1% lower in Dubai than in London.
How many expats live in Dubai?
Dubai is the most populated Emirate in the UAE. As of October 2023, the population of Dubai stands at 3,630,786, with a population density of 762.6 individuals per square kilometre. Dubai is the second largest Emirate, after Abu Dhabi, with an area of 4,114 square kilometres.
It is a melting pot of cultures and a highly cosmopolitan city, with many Muslims, Christians, Sikhs and Hindus deciding to settle there. Dubai, and the UAE as a whole, is now seeing more diversity as more people from countries around the world decide upon it as their ideal location for work and leisure. The warm weather and scenery, relaxed tax policies of the government and laid-back lifestyle are just a few reasons why many expats come to Dubai to live.
It's estimated that more than 240,000 British expats have made Dubai their base, with benefits such as a warm climate, many job opportunities, no income tax, good education services, a vibrant social community, and good geographical positioning (for accessibility from other countries).
Estimates put the overall expatriate population of Dubai at around 75%, amounting to approximately 2.72 million people. Although Arabic is the official spoken and written language in the UAE, English is the most common spoken language in Dubai, making easy communication with locals and expats another benefit to relocating.
UAE's population by nationality
According to data from the United Nations, the total UAE expat population as of 2021 was 8.84 million people. This means that 88.5% of the population of the UAE is made up of expats. The top three countries these expats come from are India (27.5%), Pakistan (12.7%) and Bangladesh (7.4%).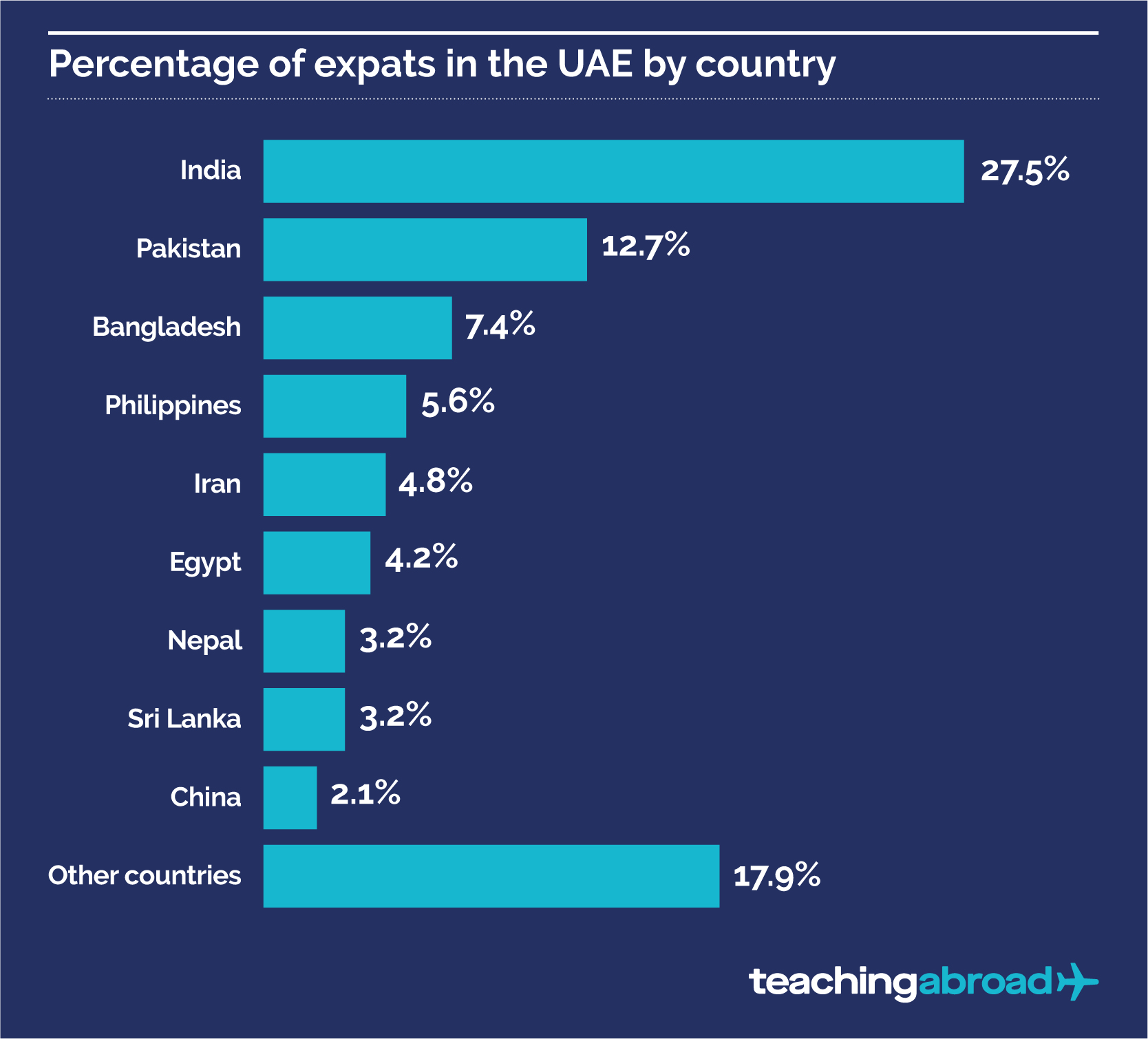 As we mentioned, there are approximately 3,630,786 people living in Dubai, this means that people in Dubai make up 38.7% of the UAE's total population of 9,365,000.
Between 2022-23, the UAE was noted as the fifth-largest economy in the Middle East. Due to the political and economic stability, opening a business in the UAE is seen as cheaper and more sustainable than in other economies. Along with estimates that put the local population at less than 12% of the overall total, this means that expats contribute more to its economic growth than locals.
Cost of living in Dubai compared to London
The table below explains the difference in purchasing costs, rent, property purchase, and income when comparing the cost of living in Dubai to that in London.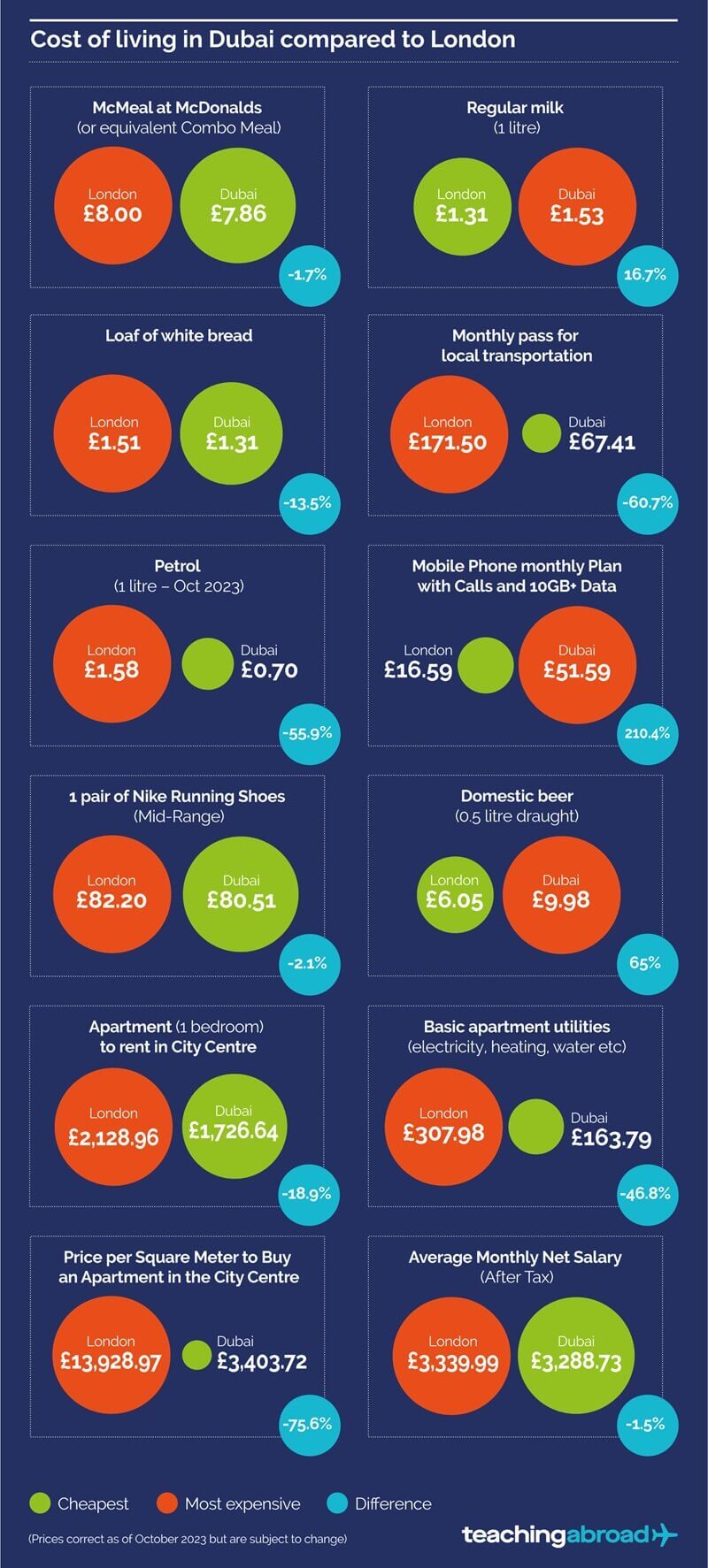 Assuming you rent in both cities, you would need to earn around 26,732.60 AED (£5,965.50) in London to maintain the same standard of life that you can have with 21,000 AED (£4,654.93) in Dubai.
Although average income is slightly lower, the cost of living in Dubai vs London is generally lower. There are exceptions, particularly when purchasing alcohol or communications (such as mobile phone contracts or internet services). Still, overall consumer prices are 20.6% lower in Dubai than in London, or 20.8% lower when taking rent into consideration (which is 21.1% lower overall in Dubai).
Eating is more affordable, with restaurant prices 27.6% lower and grocery prices 20.1% lower in Dubai. Local purchasing power is 24.3% higher per the average wage in Dubai when compared to London.
Most in-demand jobs for expats in Dubai
Dubai is rapidly growing in sectors such as finance, tourism and technology, and offers a number of job opportunities for skilled professionals across these and various other industries.
Teaching
Before working in Dubai, teachers must gain a license to teach in the UAE, and must also have a good conduct license from a previous employer. Experience of working in the UK curriculum and specialist knowledge of a specific subject are also assets that are highly valued in Dubai schools. Language academies and international schools, in particular, can provide opportunities for English-speaking teachers in Dubai.
Accountancy
Due to a flourishing financial sector and a growing number of businesses operating out of the emirate, there is an increasing demand for those with accounting experience. Professional qualifications (ACCA or CIMA), knowledge of international financial regulations, and expertise in working with cultural differences are all skills that are in demand.
As there are so many expats living and working in Dubai, a solid understanding of tax laws across a number of different countries is a huge plus.
Cybersecurity
With so many businesses operating out of Dubai, it should be no surprise that demand for cybersecurity specialists is growing quickly. These businesses need tech professionals to keep their own data secure, as well as that of their clients and customers.
Web development
A professional website is a must for a business that wants to increase its online presence and expand to reach a larger audience. With the increase of thriving businesses in Dubai, there is also an elevated demand for the best web developers.
An in-depth knowledge of markup and programming languages, such as HTML, CSS and JavaScript, is essential. Further knowledge of development tools, such as jQuery, responsive design, content management systems and accessibility are also highly desirable.
Administration
There are a variety of tasks carried out by administrative assistants. These include making phone calls, scheduling appointments, and sending and replying to client emails. Business professionals often need help from assistants to complete their work, and growth across many sectors in Dubai has led to an increased demand for administrative assistants.
Data entry
Data entry specialists compile collected data from a variety of sources, including written and audio files and phone calls. This information is often recorded in one centralised database or other documents. This kind of administrative role helps other professionals find the required information they need to use for their own work.
Digital marketing
Specialists in digital marketing use their knowledge to help with social media marketing, content creation, and analytical assessment, among other tasks. These skills are in demand in Dubai as businesses attempt to promote their services and products virtually or increase their online presence in a growing marketplace.
Human resources
As businesses in Dubai grow and expand, human resource managers are essential as they look to hire new employees and manage existing personnel. HR departments help companies to monitor employee satisfaction and ensure that the business runs smoothly.
Healthcare
Dubai is aiming to improve the healthcare offered there, leading to a demand for healthcare professionals, including nurses and physicians. As the emirate becomes a medical tourism destination, knowledge and experience of Western healthcare can make foreign doctors and nurses desirable in Dubai, especially expats with valid medical licenses and degrees from reputable UK universities.
Vacancies for the top job roles in Dubai
The table below shows the number of vacancies currently open for each of these in-demand job roles in Dubai.
| | |
| --- | --- |
| Job role | Dubai Vacancies |
| Teaching | 830 |
| Accountancy | 1,127 |
| Cybersecurity | 96 |
| Web development | 668 |
| Administration | 2,309 |
| Data entry | 608 |
| Digital marketing | 1,490 |
| Human resources | 923 |
| Healthcare | 1,036 |
Correct as of November 2023
Requirements for expats working in Dubai
For those planning to work in Dubai, there are a number of different visas available, depending on employment requirements and situations.
Standard work visas
A Standard work visa must be sponsored by a Dubai-based employer and lasts for two years. UK citizens who secure a job in Dubai will have the visa application processed by the employer. At the end of the two years, the visa can be renewed.
Green visas
A Green visa allows an individual worker to sponsor themselves without the need for an employer, which enables them to change jobs without the risk of losing residency. This visa is intended for investors, entrepreneurs, and skilled professionals who may not have a fixed employer or client. There are several categories, ranging from three to 10 years.
Domestic worker visas
A Domestic Worker visa covers those who wish to work in Dubai in roles such as a nanny, cook or domestic helper. Sponsorship from a family or private individual, rather than an employer, is necessary for this visa, which can be renewed annually by the sponsor.
How long does it take to get a visa in Dubai?
The processing time for getting a visa in Dubai can vary depending on the type of visa you're applying for, and other circumstances like the number of current applications or a change in rules. The typical processing times for Dubai visas are:
Dubai Tourist Visa: 3-4 Days

Dubai Work Visa: 7-15 Days

UAE Golden Visa: 2-30 Days

UAE Residence Visa: 10-15 Days

UAE 5-Year Tourist Visa: 48 Hours
Dubai culture considerations for working expats
The working environment in Dubai is a combination of modern and traditional cultures. There are a few things to consider if you're thinking about working in Dubai, which are as follows:
Respecting and embracing the local traditions and customs with an open-minded, adaptable attitude will help build professional relationships in a working environment.

Although English is the most common spoken language in Dubai, knowing some basic Arabic will go a long way to aiding communication and professional interactions, as well as demonstrating respect for the local language.

Modest clothing is the norm in Dubai, especially in the office, and adopting a conservative dress code displays sensitivity to local customs.

There are strict laws in Dubai relating to behaviour in public and alcohol consumption. Being aware of these laws and sticking to them is essential to not only maintaining a good professional reputation but also avoiding potential legal issues.
Why do British people move to Dubai?
There are a number of reasons why Brits decide to live and work in Dubai rather than in the UK. Let's take a look at some of the top reasons in more detail.
Cost of living
The cost of living across the UK, and especially in London, is rising at an incredible rate, fuelled by inflation that, at times, seems out of control. Mounting energy costs and food bills are having a dramatic impact on disposable incomes, reducing personal purchasing power and leading some to seek a better quality of life.
Although the Dubai cost of living is also increasing, it's doing so at a much slower rate than in the UK, and there are additional benefits to living and working in the emirate. Salaries in Dubai compared to London are slightly lower, but employees and workers are not charged income tax on their earnings.
Allowances are also provided by employers to help with things like schooling, relocation costs, healthcare, accommodation, and even travel to and from the UK. This means that, even with marginally lower salaries, employees in Dubai enjoy greater disposable income.
Inflated running costs, public sector strikes, and the aftermath of the pandemic have had a heavy impact on the lifestyle available in London, with event spaces, bars and restaurants closing earlier than they used to. Given a higher disposable income, Dubai can also offer a luxurious lifestyle that may not be possible in the UK.
Career progression and opportunities
The government of the UAE is heavily investing in technology and financial companies to double the country's economic growth over the next decade. As more companies come over to the UAE, it means that more jobs are available, with greater opportunities for promotions for skilled workers and the chance for employees to further their careers. Some companies in the UK and Europe could lose talent to Dubai if workers decide there is more to offer them in Dubai with a higher income and a better quality of life.
New experiences and diversity
Like London, Dubai is one of the world's most diverse cities. With such a high number of foreign workers and a high expat population, Dubai culture helps people from all walks of life to settle into life there. It's a very attractive prospect to expats who want to interact with different people from across the world, with an abundance of cultures, cuisine, and lifestyle choices.
Sources