Taking a gap year is a rite of passage experienced by hundreds and thousands of students every year in the UK. Before moving into higher education and the pursuit of a career, it offers the chance to develop valuable life and work experience that can make all the difference to their personal and professional lives.
The reasons why students take time out from their education varies from person-to-person, although as our gap year statistics for the UK demonstrates, there are a number of common trends apparent within the research. To explain further, we've complied a comprehensive range of UK gap year facts to reveal what students do during their break, how they fund it, the possible impact it could have on future job prospects and much more.
Contents:
Key gap year statistics for the United Kingdom
29,360 students deferred their studies for a university gap year in 2020, a 9.4% increase compared to 2019
Government studies estimate that between 200,000 and 250,000 young people take gap years each year
On average, 17,700 18-year-olds defer their studies for a gap year compared to 1,200 20-year-olds
Over 207,000 young people will work in Britain on their gap year
140,000 young people will use their gap year for travelling
Thailand, Australia and Vietnam are the most popular travel destinations with an average monthly cost of £1,873
The average travelling gap year costs £22,137 for a full 12 month period
40% of gap year takers take time out to become more independent
1 in 5 young people rely on the 'bank of Mum and Dad' to fund their gap year
What defines a gap year?
The definition of a gap year is a period of between 3-24 months taken out of education – usually before or after college or university – which is used to travel, work, or plan what the next steps in the individual's life will be. Academics generally agree on a definition, although the timeframe can vary, but the following definition fits our research: 'A break from formal study after completing school with activities including various combinations of paid and unpaid work, leisure and travel' (Stehlik 2008).
Gap years are generally taken by people between the ages of 18-25, and while many do return to complete the next stage of their education, the time spent travelling or working can create a new perspective or opportunities that otherwise may never have been realised while studying.
However, broadly speaking, a gap year can also be taken by people who have long since left the education system. For example, an entire family can take a gap year, while someone more advanced in their career taking a sabbatical could also fall into this category. This makes it difficult to create a definition that encompasses every scenario, but for the purposes of our research we will focus purely on students who take time out of their education.
Why do people take gap years?
Primarily, people take gap years to do some period of travelling or to earn money through employment. 2 in 5 students, the largest majority from Government studies, say the primary reason for their gap year is to 'become independent', with travel and employment being the most popular routes to achieve this goal.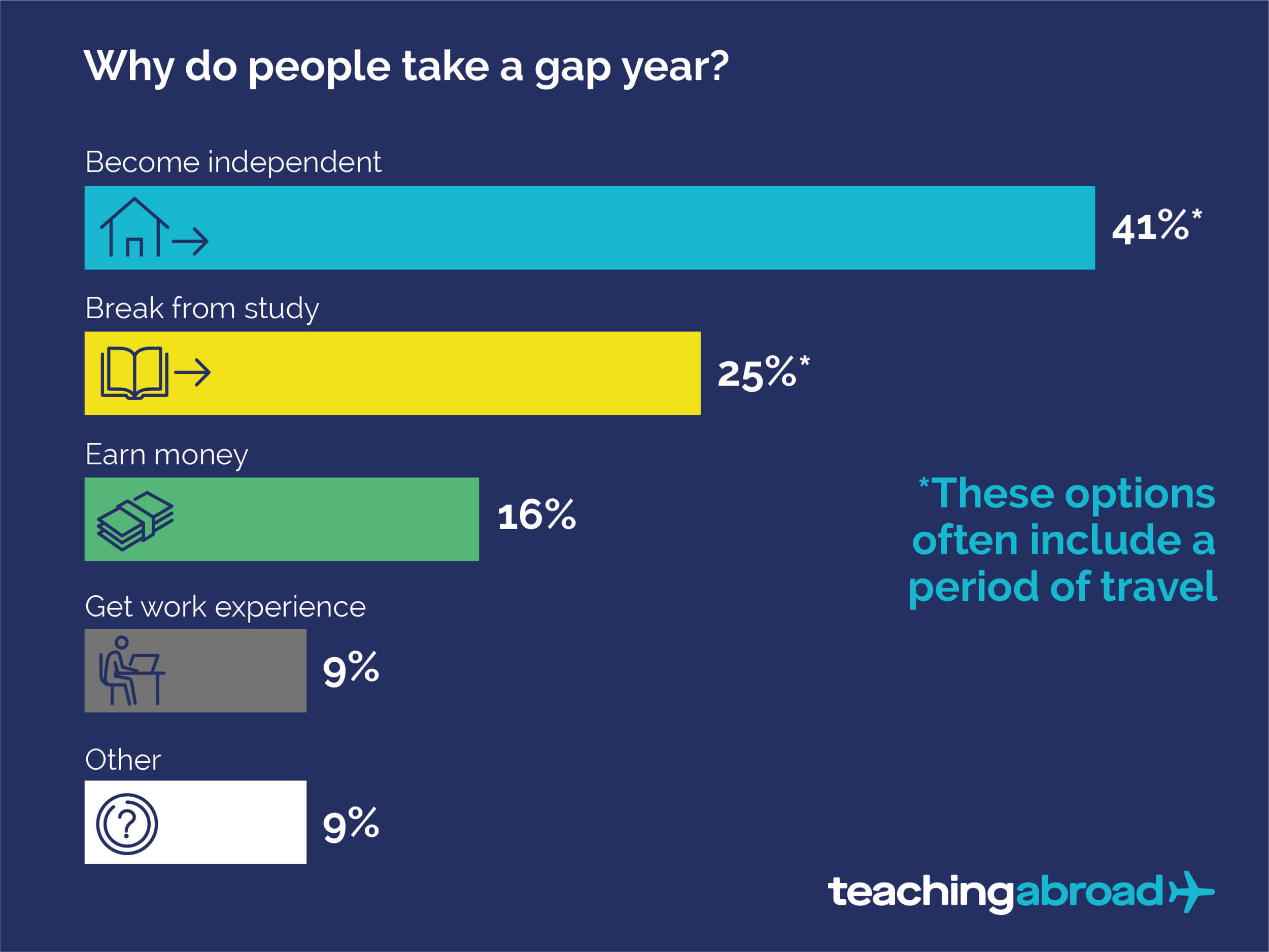 After independence, simply 'taking a break from studying' is quoted as the secondary reason, with 28% of students on a gap year break doing just that. On the surface, the term 'taking a break from study' may sound a little vague, but this typically translates into travel, be it domestically or by venturing out into other parts of the world.
A large portion of students take gap years to focus on self-growth and developing their independence, with 40% stating this as the main reason for taking time out. This is understandable given we are talking about young people aged between 18-25 entering into higher stages of education and adulthood, a crucial time of self-development in anyone's life.
While earning money is cited as one the main activities of many students during a gap year, it is actually one of the lesser reasons why they take a break. 24% say this is the reason for their break, while only 14% decide to put their studies on hold so they can prioritise work experience and bolstering their CV.
How many people take a gap year in the UK?
The Department for Education and Skills estimates anywhere between 200,000 – 250,000 young people take a gap year each year. Utilising UCAS data, we can see that a part of this number comes from an average of (from the last 5 years) 27,518 university students who defer their course each year to take a gap year. This is only 11% of the DfES' estimation, leaving those not attending university for other pathways and those taking gap years after their course (approx. 172,500 – 222,500) to make up the rest of the Government approximation.
The Government estimates anywhere between 200,000 and 250,000 people take a gap year each year
Of course, during the COVID-19 era these numbers are going to be dramatically different. Travel restrictions and stricter health and safety measures make it far more difficult for students to find work at home or abroad, while there are also likely to be far less job opportunities available.
And due to many places of education closing early and affecting the academic calendar, it is also more difficult to separate those who are currently intending to take a gap year, from those who did not intend to pre-COVID.
What are the most common activities for a gap year?

According to Government research, when asked what their 'primary reason' for a gap year was, 61% said some form of paid work, whilst 26% said they were simply waiting for their course to start. This is compared to things such as looking after family, unemployment and waiting for job application results (which accounts for 3% of gap year students).
7% opted for additional education or training courses of some kind, while 3% took up voluntary work in exchange for gaining valuable experience.
How many people travel on a gap year?
Taking into account all activities undertaken by gap year students during their time off, and not just their 'primary' identified activities, the figures remain consistently split between finding work domestically (83%) and travelling (56%). A smaller percentage are able to work in another country (16%), with similar figures for those volunteering abroad (16%), we know from our own data, that TEFL jobs are one of the most popular routes for teaching abroad in your gap year.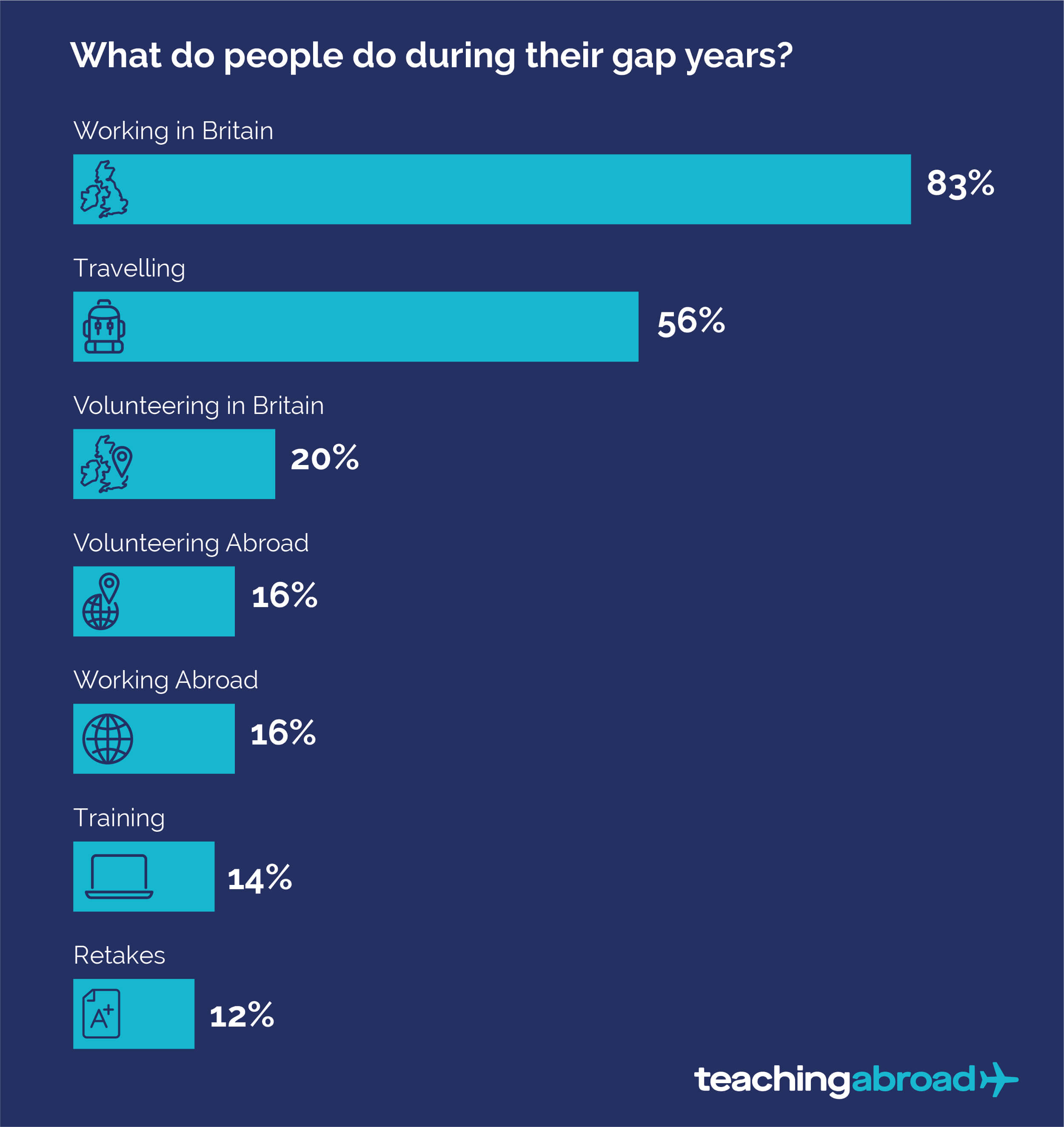 A further 14% go onto training courses during their gap year, while exam retakes and study time also account for 12% of students during this period.
How many people work on their gap year?
Using this data, you can estimate that up to 207,500 young people will work at home on their gap year, and 140,000 gap year takers will undertake some period of travelling, with many doing a combination of both.
How much does a travelling gap year cost?
With travelling being a main focus for many students during their gap year, this will come at an expense for many individuals and their families. Of course, the extent of their travels will dictate the cost, and the regions explored are often wide and varied.
Taking the most popular countries (see below), we can see that the average cost of a travelling gap year costs £1,844 a month, or over £22,137 a year if the person travels for all 12 months!
Southeast Asia is always a popular destination, with countries such as Thailand, Vietnam and Cambodia appealing to students for a number of reasons, be it cost or culturally-based. South America is also a travel hotspot for gap year takers, including the likes of Peru and Argentina, while travelling down under to Australia and New Zealand remain desired options. The USA, South Africa and India also offer varied cultural experiences for those looking to travel abroad.
In terms of expenditure, based on average monthly travel costs, the USA is by far the most expensive option, costing approximately £5,023, with Australia and New Zealand also requiring sizable travel budgets, with a monthly average of £3,178 and £2,768 respectively.
It's easy to understand why some areas of Southeast Asia and South America are popular, as they sit at the lower end of the cost scale. India generally tends to be the cheapest, with a monthly average cost of £647.
The Most Popular Countries to Take Gap Years In
| Country | Average monthly travel costs |
| --- | --- |
| Thailand | £1,533 |
| Australia | £3,178 |
| Vietnam | £910 |
| Peru | £969 |
| New Zealand | £2,768 |
| USA | £5,023 |
| Cambodia | £786 |
| South Africa | £1,826 |
| Argentina | £808 |
| India | £647 |
Do gap years help future employment?
Whether it's to gain more independence through travel, or to seek out paid or voluntary work experience, students taking a gap year hope their time away from education will benefit their long-term goals.
A lot of importance is placed on achieving a degree at university due the fact as many as 74% of all graduates are likely to find full-time employment. This corresponds to the 80% of people in the UK who think spending some time out of the education system adds to their employability.
Other key findings to consider include:
In the UK, 60% of those taking a gap year believe it helped them decide what subject to study at university and;
66% took their studies more seriously upon their return
In the US, 97% of students enjoyed increased maturity due to taking a gap year and;
96% also improved their self-confidence and;
84% acquired skills they believed would help them be successful in their future careers
However, studies have suggested that gap year takers may eventually end up earning less than those who go straight into higher education, taking home lower hourly and weekly wages between the ages of 30-38 in comparison. This may be because gap year takers are playing 'catch up' with peers who have continued from education into work and are further ahead with their career progression.

How are gap years typically funded?
Taking a gap year gives students the chance to step away from education to explore the world before refocusing on their future careers- but how are they able to fund it?
The biggest source of funding for gap years is secured by working, with 80% of students taking on employment of some kind in the UK. A smaller section of students benefit from financial support from their parents, with 20% of gap year takers receiving money from 'the bank of mom and dad'. It is also worth noting that, according to the studies, as many as 10% of students earn enough to be able to fully fund their gap year.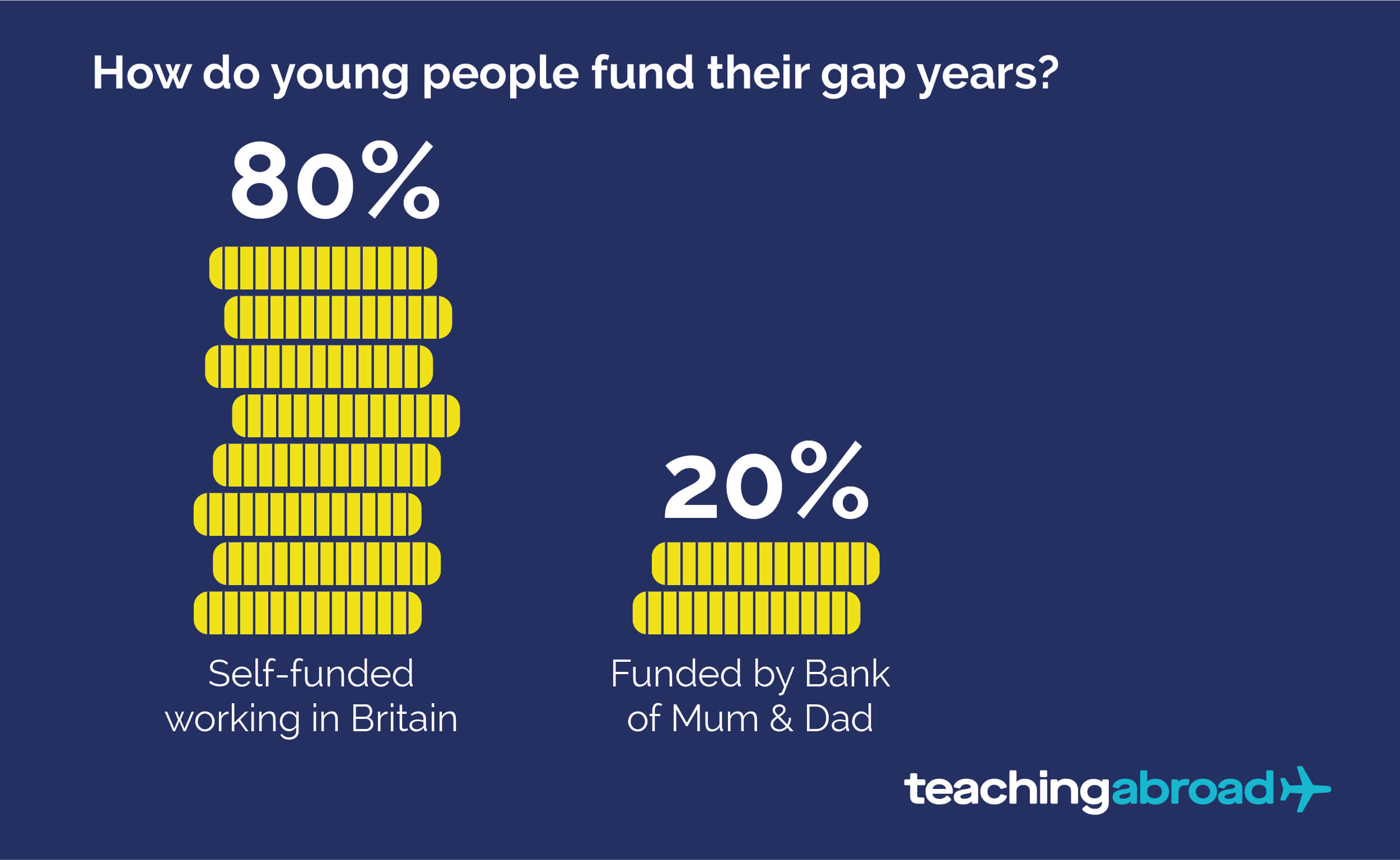 Compared to those working in the UK, a much smaller percentage of gap year students are able to afford working abroad, with 16% who intended to take a gap year going on to do so. It's a similar figure for those who volunteer abroad, while the number of students volunteering in Britain is only slightly higher at 20%.
The type of work taken on during a gap year can be wide and varied, with jobs ranging from waitressing and bar work, to babysitting and working in events.
All of these figures are a mixture of self-organised gap years and organised gap year programmes, which put together a more structured plan of action.
Impact of Coronavirus on gap years in the UK
UK universities saw 9.4% increase in deferrals from 2019 - 2020
COVID-19 has changed the world in numerous ways and it has also had a direct impact on young people in education. Students had to adapt to home studying, while travel restrictions meant that plans to work abroad or to explore other parts of the world had to be postponed or cancelled.
The cancellation of A-Levels in the UK also meant that students were worried about the grading process and how this would affect their chances of getting into university. 20% of students who applied through UCAS, for example, either changed their mind about applying, or were unsure of their next steps.
80% of university applicants kept their plans in place – a figure which remained the same when surveyed in April 2020, and later in July 2020. However, where 2% changed their preferred university choice in April, this increased to 6% in July.
In the end, official deferral figures from UCAS, saw a 9.4% increase year on year in number of students, however, proportionally, only 5.7% of students deferred in 2020, compared to 5.4% in 2019, indicating the effect of COVID-19 on those who had already applied to university was not as dramatic as critics initially thought.
Why did students defer and take a gap year during COVID-19?
When asked why they were planning on deferring their university course to next year, the following reasons were given: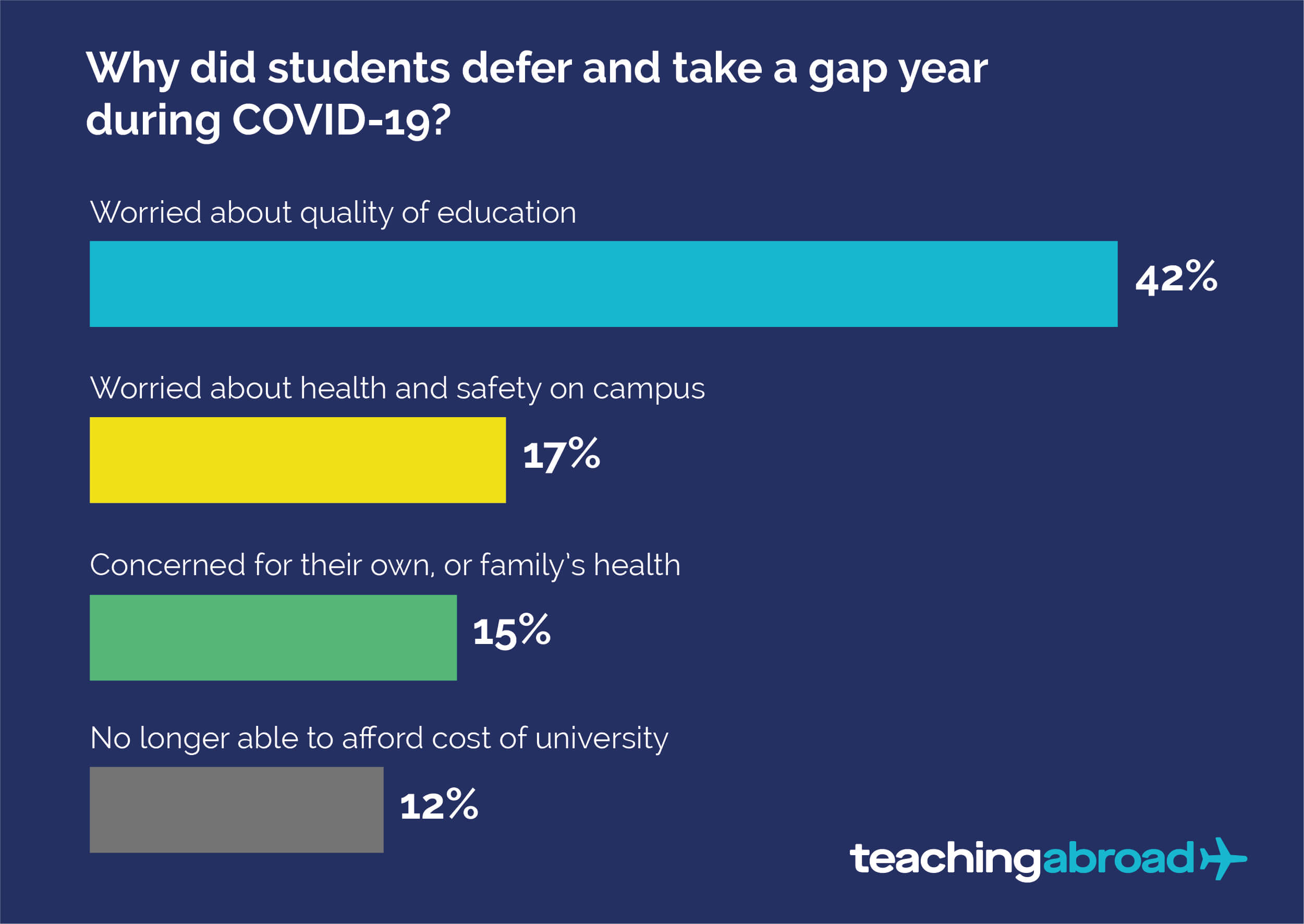 Sources:
UK Government: Gap-year takers: uptake, trends and long-term outcomes https://www.gov.uk/government/publications/gap-year-takers-uptake-trends-and-long-term-outcomes
Universities UK: Higher education in numbers https://www.universitiesuk.ac.uk/facts-and-stats/Pages/higher-education-data.aspx
Year Out Group: Gap year statistics to help take the leap https://yearoutgroup.org/gap-year-statistics/
ABTA: ABTA reveals top gap year destinations https://www.abta.com/news/abta-reveals-top-gap-year-destinations-0
Budget Your Trip https://www.budgetyourtrip.com/
The Independent: Does a degree guarantee you a good job? https://www.independent.co.uk/student/career-planning/getting-job/does-a-degree-guarantee-you-a-good-job-795996.html
UCAS: Clearing Analysis (September 2020 update), data analysed from 2008 - 2020 https://www.ucas.com/data-and-analysis/undergraduate-statistics-and-reports/statistical-releases-daily-clearing-analysis-2020
COVID impact and deferrals: https://www.suttontrust.com/wp-content/uploads/2020/05/COVID-19-and-Social-Mobility-Impact-Brief-2.pdf
Stehlik, T 2008, 'Mind the gap: researching school-leaver aspirations', paper presented at the NCVER National Vocational Education and Training Research Conference (No Frills), Launceston, 9–11 July.
Jones' 2004 report: Jones, A 2004, Review of gap year provision, Research report RR555, Department for Education and Skills, London.