If you're looking to teach English as a foreign language, then there is a good chance that you will need to meet some minimum requirements. In the vast majority of cases this will require you to be a native English speaker, and potentially, be in receipt of a university degree.
On top of this, it is highly likely that you will also need to have a TEFL-related qualification. While this can range from a basic 100-hour online TEFL course, some teachers prefer to go the full-hog and obtain a prestigious qualification such as the CELTA.
As such, deciding whether you want to work towards CELTA or a more generic TEFL certificate will ultimately depend on what you are looking to achieve from your English teaching endeavours.
Ultimately, your decision is likely to be based on time and financial commitments. While a basic TEFL certification can be undertaken in a shorter time period, not only does the CELTA require a full month of in-class training, but it can also cost quite a bit of money.
To make things easier for you, we've decided to unravel the CELTA vs TEFL debate. By the end of reading our guide from start to finish, you'll be able to decide which one is best for your individual needs.
We also now have a dedicated TEFL jobs section alongside our main Teaching Jobs. Let's start by exploring what the two qualifications actually are.
What is CELTA?
The Certificate in English Language Teaching to Adults, or simply 'CELTA' is an internationally recognized qualification obtained to teach English as a foreign language. The certificate is often seen as the most precious TEFL-related qualification to have, not least because obtaining it requires a rigorous in-class learning process that often takes a month to complete. Moreover, the qualification itself is accredited by Ofqual, who regulate exams in the UK academic space.
One of the key factors to going through the CELTA process is that you'll be accustomed to hands-on teaching experience, something which can only be taught by those are at CELTA-certified.
Across the 120-hour program, the CELTA program generally covers five key factors, which we've listed below.
● Teaching Practice: A big part of the CELTA course is spent teaching other students, subsequently allowing you to perfect your skills while being observed by both the instructor and your fellow peers.
● Written Assignments: In order to evaluate your teaching journey, the CELTA course requires candidates to complete 4 written assignments, as well ongoing homework.
● Classroom Observation: 6-hours of the course will see you observe other teachers. This will allow you to extract notable skills from those will more experience.
● Methodology of Language, Teaching & Learning: Often overlooked, the methodology section of the CELTA course teaches you how to implement classroom management techniques.
● Language Awareness: CELTA also ensures that teachers have a firm grasp of the underlying rules linked to grammar, structure and content.
When it comes to costings, these will vary from provider-to-provider. In the UK, this is likely to cost in the region of £1,400. #
So now that you have a better idea as to what the CELTA course is like, let's explore the TEFL certificate.
What is a TEFL certificate?
When we refer to a TEFL (Teaching English as a Foreign Language) certificate, the terminology is actually quite broad. The reason for this is that unlike CELTA, there is no central authority that has the capacity to offer TEFL courses. As such, there are literally hundreds of providers now operating in the marketplace.
This makes it somewhat problematic, not least because many of the TEFL courses that you'll find online are not actually accredited by any notable institutions.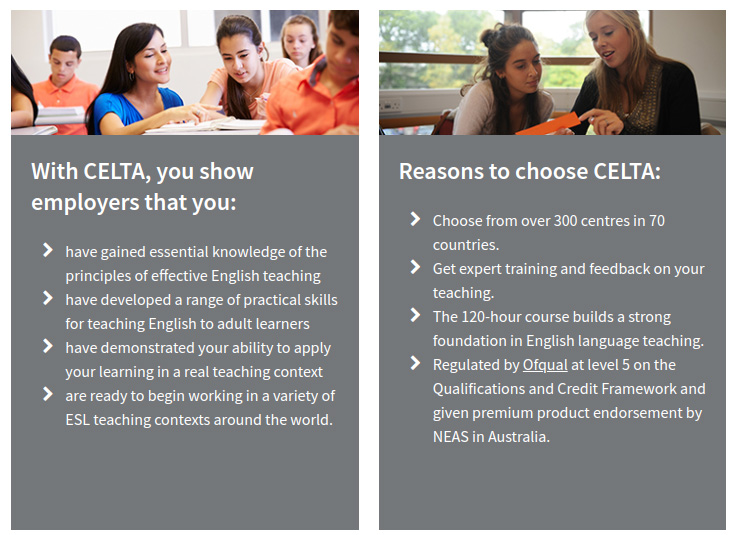 Nevertheless, there are some key providers out there that are generally more recognized than others. Moreover, unlike the CELTA program, you have the option of taking a TEFL course online, in-class or a combination of both.
It is also worth noting that each TEFL course varies in length, although this is most commonly either a 120-hour or 150-hour program.
To give you an idea as to some of the leading TEFL programs out there, we've listed three below.
● International TEFL Academy If you're looking to obtain your TEFL qualification online, then one of most recognized providers in the marketplace is that of the International TEFL Academy. The course spans 170-hours of online teaching, and it is accredited by TQUK, who themselves are regulated by Ofqual.
Although the international TEFL Academy course is undertaken online, it is important note that you'll actually be taught in real-time, rather than via pre-recorded videos. Moreover, with class sizes capped at just 20 students, you'll be accustomed to personal attention from the instructor in question. In terms of costings, you'll pay just over £1,000 for the course, and you'll need to set aside around 10-12 hours per week across 11 weeks.
● i-to-i TEFL: i-to-i TEFL is also a major player in the international TEFL program arena, and they also have a strong presence in the UK. Although the provider offers a range of different courses, one of the most popular is the blended 140-hour course. As such, you'll combine 120-hours of online learning with 20-hours of in-class teaching.

Even better, there are heaps of centres throughout the UK where you can take your in-class lessons. In terms of costings, you'll likely pay around £270, which is excellent value. Moreover, the provider is also regulated by Ofqual, which adds extra weight to your TEFL certificate.
● UK TEFL: If you're looking to fast-track your teaching endeavours, then it might be worth considering UK TEFL. For just £370, you can engage in 2 intense days of in-class training. Not only this, but you'll also receive a 150-hour advanced online TEFL course, which you essentially undertake in your own time.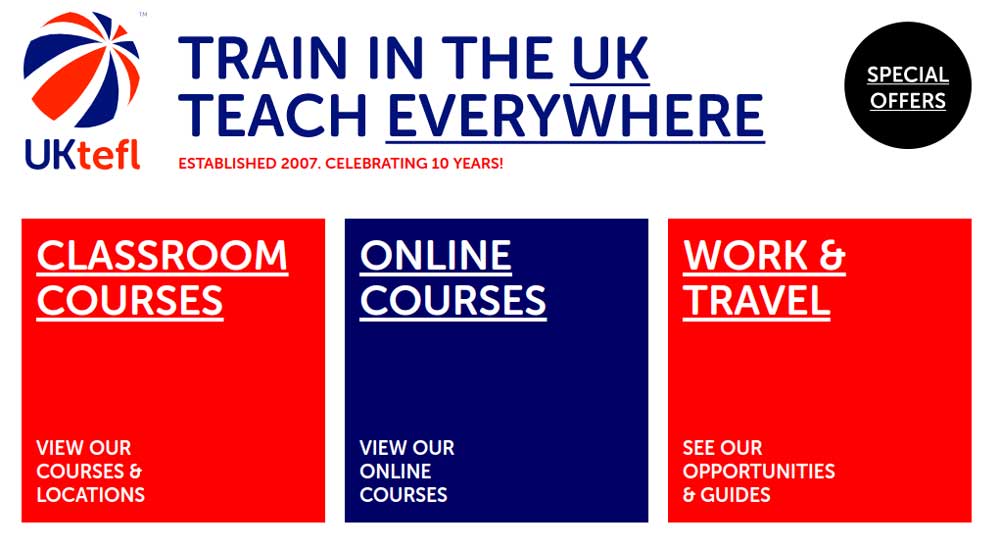 Location wise, the in-class section of the course can be accessed via multiple UK locations, so check out the website to find your nearest centre. In terms of accreditation, UK TEFL is backed by TQUK.
CELTA or TEFL: Which will get me the better job?
In a nutshell, there is no denying that the CELTA qualification will offer significantly more opportunities in comparison to a more generic TEFL certificate. Not only is the qualification internationally recognized as the hallmark TEFL-related qualification, but academic institutions throughout the world generally have a firm grasp of how intense the course actually is.
For example, the English teaching space covers a wide-range of opportunities, from kindergarten, public schools, private centres and more. However, the most prestigious jobs - such as those taught in private bilingual schools, universities or within business organizations, are generally reserved for those with a CELTA qualification.
What this also means is that you are much more quickly to get teaching jobs that offer salaries at the very top of the pay scale. Moreover, even if you have your heart set on a less competitive teaching job at a public school, your profile will no doubt stand out from the crowd if you are in possession of a CELTA qualification.
However, it is important to note that the CELTA qualification is not the 'Be All And End All' of the English speaking field. On the contrary, a more generic TEFL certificate will still yield significant opportunities for you. Furthermore, some institutions in certain countries do not even request that prospective teachers need to hold a certification, as demand levels are so high that they are willing to take you on if you possess other key qualities.
Ultimately, the decision is about personal circumstances. If you have the financial means and you're able to commit to a month of in-class learning, then obtaining the CELTA certificate can only benefit your teaching endeavours.
On the other hand, if time is not on your side, or you don't have the available funds to pay for the CELTA course, then don't be disheartened, as the TEFL certificate is more than sufficient.
In order to help you with the CELTA vs TEFL decision making process, we've detailed some of the key factors that you might want to consider.
Time
One of the most important factors that you need to take into account when trying to decide which certificate to get is time. For example, the CELTA course will require a full-month out of your schedule, which you'll need to complete in-class.
This is quite a big ask for most people, especially taking into account everyday commitments such as work and family.
As such, if you are not able to take a full month out to undergo the CELTA program, then you might be best looking into what's available in the form of a TEFL certificate.
Online, in-class or both?
You also need to consider how you want to undergo your TEFL training. As noted above, the CELTA program can only be taken in-class. While this is the most effective way to learn - not least because you will get hands-on practical experience, it's not suitable for everyone.
Depending on the provider you decide to use, online TEFL classes can be just as educational and informative as their in-class counterparts. In fact, the best providers teach the course in real-time via a video link, meaning you're still be accustomed to direct feedback.
At the other end of the spectrum, some TEFL courses that are taken online simply require the student to watch pre-recorded videos and read text-based content. In reality, although this won't have the same level of effectiveness as undergoing the course via an actual teacher, at the very least it will provide you with a TEFL certificate.
Moreover, this will also allow you to undergo the course in your own time, rather than having to commit to a specific schedule.
Alternatively, and perhaps the best way to go, is to choose a TEFL course that offers a combination of both in-class and online training. This will allow you to obtain crucial learning techniques in the presence of an experience teacher, while at the same time expose you to additional material in the comfort of your own home.
Costs
It would be naive to think that the cost of your chosen TEFL-related course is not an important factor. The CELTA course will set you back around £1,400. Moreover, as you'll need to commit to 4-weeks of intense in-class training, you also need to remember that you'll lose out on a month's salary. Even part-time work might not be possible, as the CELTA program requires extra-curricular learning in the form of homework and assignments.
On the other hand, more generic TEFL certifications will cost significantly less than CELTA. While costings will vary depending on the provider, whether you want to do the course in-class or online, and the length of the course itself, you'll pay a lot less.
In fact, taking a generic 100-hour online TEFL course that you can undergo in your own time can start from as little as £100. You can also pick up an even cheaper deal if you find an offer throughout the likes of Groupon.
CELTA or TEFL: The Verdict?
In summary, while both CELTA and TEFL will spearhead your English teaching journey, each come with their own advantages and disadvantages. While on the one hand the CELTA qualification is by far the most prestigious, you'll need to be able to commit to a full month's worth of in-class training. Moreover, the program is going to set you back a whopping £1,400, with barely any free time to undergo part-time employment.
Alternatively, while the TEFL certificate is most definitely less recognized by the academic community, it is still sufficient to apply for the vast majority of teaching jobs out there. Furthermore, generic TEFL programs are significantly cheaper, and they also offer you the chance to undertake the course online.
As we noted earlier, although there are some TEFL certificates available that cost less than £100, you need to remember that they'll unlikely to be accredited by any notable institutions, and you'll potentially only be viewing pre-recorded videos. However, if you're only looking to obtain a TEFL-related qualification with the view of starting your teaching career as quickly as possible, then this might suffice.
When you're in a position to start applying, we now have a dedicated TEFL jobs section alongside our main Teaching Jobs.