In order to find the best countries to teach English abroad, you need to consider a wide range of factors. Things like salaries, curriculums, cultural differences, job and visa requirements all play their part in narrowing down your choices from the huge amount of TEFL teaching jobs that are available.
It's also important to remember that the easiest countries to teach English may not always be the best fit for your career goals. We cover the best countries to teach English in 2023 below, so you can weigh up what works best for you.
Contents:
Best Countries to Teach English in 2023
The following is a breakdown of some of the best countries to teach English abroad and the reasons you should consider working there:
China
The Chinese economy has grown into one of the world's largest in the past decade and that is reflected in the education sector. There is always a need for good quality English teachers, as learning the language is seen as key to strengthening its international status. Good salaries are available from $1,200 to $2,600 USD and given the size of the country and population, there are always plenty of opportunities available.
Although the salary is not the highest in global terms, you will actually not spend much of it. TEFL jobs in China allow you to save money in the following ways:
Receiving free accommodation with the job
Lower cost of living (around half compared to UK/US)
Packages can include health insurance
South Korea
South Korea has developed a strong reputation overseas, with its growing economy and welcoming attitude to English teachers from overseas. Good salaries of around $2,000 a month are available, and the cost of living is relatively low. It's a great place to work and offers plenty of opportunity to move around other countries in the region on short-term contracts to enjoy new experiences.
English students in South Korea are often extremely enthusiastic to learn the language as it is the language of business in the region. As children, they will often attend extracurricular studies to improve their English. For teachers, this means the language proficiency of students is extremely high and provides a challenge for TEFL in South Korea.
The Middle East
Whether in Dubai, Abu Dhabi, Saudi Arabia, there are some great earning opportunities for TEFL teachers. Often teachers will find that the packages can be very enticing and with a lot of money being invested into education infrastructure in the region, it's a great time to be teaching in the Middle East. The region as a whole is looking to boost its standing on the global stage and you'll find plenty of jobs being listed. And best of all, you don't have any tax to pay, which you won't find in many places around the world.
Teachers often flock to the region to get a taste of the Instagram lifestyle and enjoy the scorching temperatures. Desert excursions and lavish shopping is often on the menu. It's an experience many TEFL teachers don't forget in a hurry.
Thailand
Thailand has always been a popular travel destination for people of all ages and it's the same for teachers, both new and experienced. The climate is fantastic, food amazing and the cost of living generally very low. That last point is important to note as salary is not that high – around $1,000 to $1,500 – so you can still enjoy a good lifestyle. Travel opportunities are also plentiful given Thailand's location, with Vietnam, Laos, and Cambodia, literally a bus ride away, so you can travel around and take your pick of other countries to work in too. Thailand TEFL jobs are popular with newer teachers as it's easier to land an entry-level role there compared to somewhere like South Korea.
Japan
Similar to South Korea, Japan has long-established a strong international reputation for attracting English teachers. Education is given a lot of importance in Japanese culture which means standards are high. TEFL certification is usually a must, with cities like Osaka, Tokyo, Kyoto and Fukuoka usually offering regular positions.
Discipline in schools is good, which makes students more attentive to learn, and Japanese culture is welcoming and unlike anywhere else in the world. If you drop your wallet on the floor, you're likely to have someone run it back to you, or it'll still be in the same spot the next day. It's important to note for older TEFL teachers (60+) Japan has a mandatory retirement age of 60 so it isn't possible for anyone above that age to teach in the country. If this sounds like the opportunity for you, take a look through a range of TEFL jobs in Japan now.
Taiwan
There are a lot of job opportunities available in Taiwan offering good salaries and all-round packages. This is the country that is planning to be bilingual by 2030 – a goal you could be a part of. Many TEFL jobs in Taiwan tend to be focussed on younger children, although teenage and higher education roles also come onto the market.
The country is well-established for TEFL teachers and the cost of living is low enough to allow you to save money while working there. The weather is great and many teachers rave about the food scene. If you're on a short contract you can also journey to other Asian countries to work or travel.
Easiest countries to teach English in
Some countries do not require much experience or high levels of qualifications in order to teach there, this can make them an easier country to teach English, which for some, will mean they are best for starting out, or for a less challenging experience. Some to take note of include:
Vietnam
Vietnam is fast becoming a TEFL hotspot with the capital Ho Chi Minh City (Saigon) home to plenty of language schools and schools also on the lookout for qualified English teachers. The cost of living is low and salary levels high enough to live a good lifestyle. You'll need a TEFL certificate at minimum and in some cases a bachelor's degree for some of the more senior posts though. Much like its other SE Asia neighbours, it's incredibly easy to travel around the region for little expense. If you're looking for a balance of an easy TEFL job alongside ample travel opportunity, you can't go far wrong with Vietnam.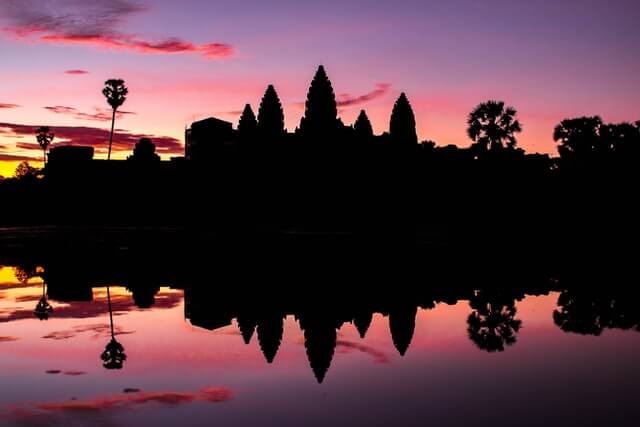 Cambodia
Generally, finding work in Cambodia can be a little easier compared to some countries nearby, with fewer qualifications needed and TEFL certification not always a basic requirement in some cases. Average salary levels may appear quite low, between $1,000 and $1,200, but with nice apartments available for as little as $150 per month, and general living costs just as low, it makes for an excellent choice. Many TEFL teachers will start in Cambodia due to the ease of access and local travel opportunities (like the aforementioned Vietnam). It's important to note that while Cambodia is relatively easy to get a TEFL job, conditions can vary greatly, so research should be given to which city you decide to teach in, for example, Sihanoukville might be near the beach but its not the best for living in.
Mexico
Mexico City in particular is seen as one of the easiest places to teach English in Mexico. From private business teaching, to school children and universities, you won't always need a degree to secure a job role here. A law was also recently passed by the government that gave permits to teachers holding a TEFL certificate and able to speak English fluently. And given the large size of the connecting South American continent, it offers plenty of opportunities to travel and find work elsewhere.
Just because a country is considered one of the easiest places to teach English abroad, it shouldn't be your only option if you are a new TEFL teacher. Consider your options and whether you could benefit from a TEFL course to boost your employment prospects.